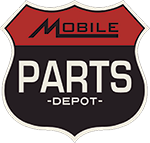 Mobile maintains a compete parts inventory for all Mobile and ECO product lines. For legacy and or discontinued models, please use the form below to contact customer service.
***

PARTS DEPOT (F.O.B.)
MISSISSAUGA, ONTARIO
CANADA
L5L 0A6
DELIVERY METHODS
Mobile can ship ground, air, overnight express or by any preferred method. When placing your order, please specify your preferred mode of delivery.
CARRIER
UPS
*For other carrier, please specify when ordering*